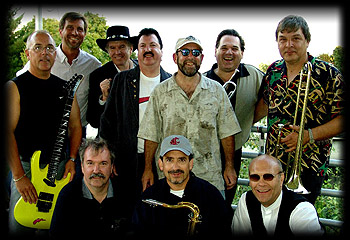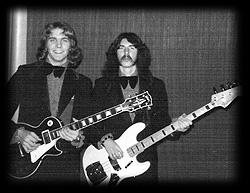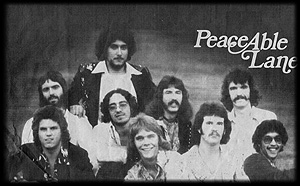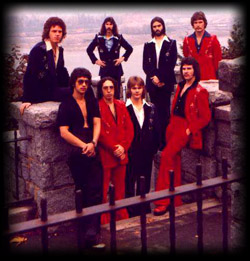 Left: Peaceable Lane as seen in 2005:

Rick Thompson, Rob Floberg, Bob Hoffman, Terry Toporke, Mike Myerdirk, Jay Scott, Bob Lein, Gary Toporke, Boots Buhre, Mark Swanberg

Below: Mark Swanberg, and Terry Toporke- originals!

Top: Bill Barner,Terry Toporke, Charlie Harkus, Jay Thomas

Bottom: Gail Long, Greg (Boots) Buhre, Mark Swanburg, Charlie Foster

Photo Courtesy of Bill Barner

Early 1970's  . . .

The best stuff from this decade is what we specialize in.

Billy Barner - Drums, Vocals

Gary Benny - Bass

Mickey Benson - Drums

Greg "Boots" Buhre - Alto Sax

Rob Floberg - Keyboards

Charlie Foster - Trombone, Percussion, Vocals

Charlie Harkus - Keyboards, Vocals

Ralph Howland - Trombone

Larry Landers - Drums

Bob Lein - Trombone

Doug Lewis - Bass

Gale Long - Vocals, Perc.

Mike Meyerdirk - Drums

Chris Menzel - Keyboards

Dennis Sharp - Trumpet, Flugel Horn

Dick Summers - Keyboards

Mark Swanburg - Guitar

Jay Thomas - Saxophone, Trumpet, Coronet, Flugel Horn

Rick Thompson - Guitar

Terry Toporke - Bass, Vocals

Dan Ruffo - Manager

Peaceable Lane played first in the Tacoma area clubs (High Hat, Baldy's, Back Forty) and later around the West Coast and Canada until the breakup in 1974.  Some players went on to other bands or got real jobs!

Manager Dan Ruffo gathered up ten of the original Peacable Lane musicians in 2004 and said the immortal words "we're puttin' the band back together..."

This after a thirty year break for the original group.

Peaceable Lane is better and more energetic than ever - with over 400 years of musical experience between the members!






Click any photo to see full size image!